I'm currently living on the top floor of a third story apartment building. I'm situated right on the edge of what's considered "downtown Mwanza". Surrounding the apartment are three hotel buildings (soon to be four), a collection of various shops (including small convenience stores, perfume/lady accessories, and an internet café) and finally Mlango Moja (literally "one door" in Swahili), which acts as the main clothing market in Mwanza. All of this adjacent activity provides a lot of interesting situations to see from the apartment balcony, however it also provides a lot of noise as a result. Sometimes I'll hear the honking/engine of large trucks, mobile music vendors, or wedding receptions being held at the hotels. I've especially enjoyed the parades and rallies that can be held in the streets. They are usually always friendly affairs and consist of 100s of people singing a song accompanied by various instruments (trumpets, drums, other loud equipment). This happened quite often during the peak campaigning period for the presidential elections and during the Tanzanian National Soccer Championships.
Like I said, I live in an apartment building – and one of the benefits is that my flat is across the hall from the Kivulini office. This makes work especially convenient for those who like to squeeze in a couple extra minutes of sleep! Often throughout the day I'll alternate my presence from my apartment to the office, depending on what needs to be done. Sometimes Kivulini members will use my living room to hold meetings with people should the office become really busy. At night, when the Kivulini office is closed I'll often go into the office and use their computer and the internet. It's much slower than the service at internet cafés but its still handy to check email and surf the web – in Kivulini's case the line is shared with a few other businesses in Mlango Moja.
There are two other flats both on the second floor of the apartment. One belongs to a mother and daughter and the other is Maimuna's house. Out on the ground floor of the apartment are a collection of shops and Kivulini's legal aid office. Here, trained staff counsel women (or couples) who are experiencing domestic violence in their relationship/marriages and are seeking legal help or understand human rights.
Every evening we have a night-watchman (Tato) who comes and keeps an eye on the apartment. Most businesses and larges homes choose this service to help prevent break-ins. I'd have to say though that the apartment is probably one of the most safest places to live in Mwanza – the constant activity and people around the area serves as a whole community of watch-guards in itself. Plus living on the third floor, it would be very hard to make a quick getaway in any robbery attempt.
Since I've been here in July, I've had three different roommates, ironically all female and from (of all places) the GTA region. Dallas of course was my first one, who worked on the WHE project with me until September. Rita then moved in immediately afterwards while doing an internship with Kivulini – she has since moved out and got her own place in Isamilo. Since my return in January, Hali has been number three. She is working with Kuleana Children's Rights Organization in the main administrative office.
So that's my living arrangements in a nutshell. Overall, it's a really convenient place to live and I wouldn't have it any other way. Sometimes privacy can become an issue because of the constant activity from the office and the outside, but it all leads up to an exciting environment in the end.
Below I've included some pictures of the apartment and the surrounding area: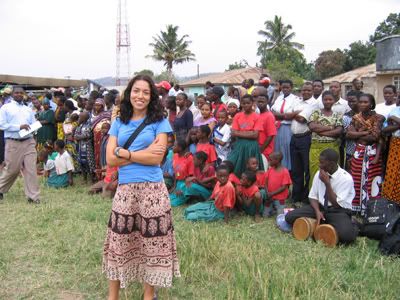 Former roommate, Rita
The semi-private pool in Mwanza. Located at Isamilo International School.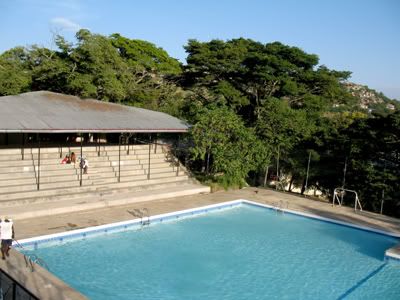 Pool again (its deserves two pics!)
Living room in the apartment
Our kitchen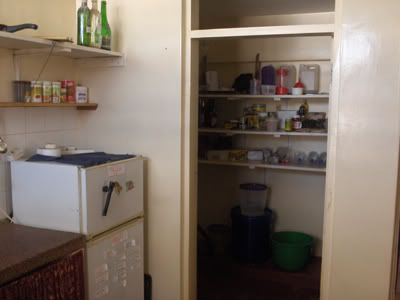 Kitchen-pantry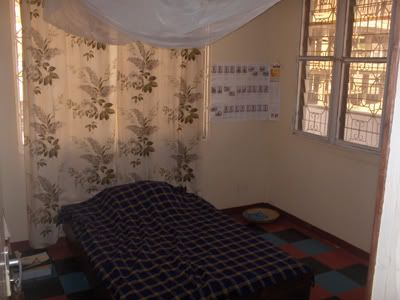 My bedroom
A mini bus trying to treck through the waters outside the apartment during a flash flood from a rainstorm.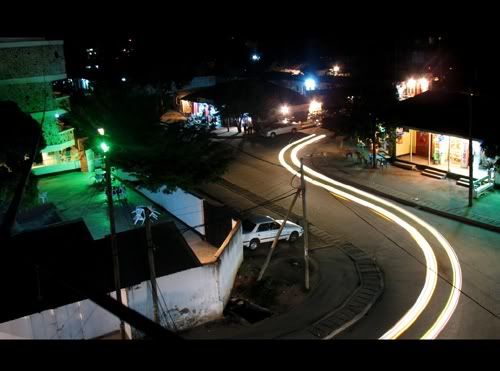 Mlango Moja corner at night
Light show from roof