I was born and raised in Pickering, Ontario – a city just east of Scarborough, Toronto. In August, while I was in Tanzania, my family actually moved, but stayed within Pickering. When I arrived back in Canada, it was to some extent an exciting experience unpacking all my old belongings and remembering stories and events from years back. I suppose one day I'll look at these journals and think the same way about my time in Tanzania…
Besides the move, things at home were pretty much the same as I had left off. I have one older sister who at the time was in the middle of finishing up her last year at Ryerson to become a nurse. Both my parents were pretty busy during my return but I was able to spend some quality time with both. Even my dog, Sugar (a Shih-Tzu) was at his full form; very spoiled and very sleepy.
I really enjoyed making the drive back to London and UWO – though I realized that after spending time in a country where people drive on the left, making the transition back to the right side isn't easy. In a parking lot I inadvertently once drove on the wrong side, but thankfully I came to my senses before an accident took place.
At Western I had to attend a few meetings with WHE administration, both as an entire group and with individual members. Some things included meeting with Bob and Jethro, discussing the past six months and planning for the three ahead. Another stop had to be made with Melanie and UWO research accounting to understand what was needed to be done for my finances. I also had to make arrangements with my faculty counselor and with Iwona at the Science Internship centre to cancel my previously intended second semester courses.
Two larger meetings were held during my time in London. One was with Gregor, Shari and Amardeep – who helped the program with a research proposal. Here we discussed more of the science-related issues with the work. As you may have read in past postings, we had some problems with producing the probiotic cultures. Another topic involved the set-up needed for research. The three offered some great insight to these issues – overall they were a big help and were encouraging the progress of my work.
In the other major meeting I had was with the WHE committee itself. I gave a brief presentation to the group (including to Dallas, who was in attendance!) again on my past and future activities in Mwanza. We also discussed at length, the MoU and finances for myself and the project. On the whole, it was a successful meeting, but everybody had some homework to do before I left.
One very rewarding event took place at the Tecumseh Elementary School in London. Here, I was able to meet with the grade 1-3 students that have been participating in fundraising events for Buswelu Elementary School in Mwanza. In addition to handing out the letters that the Buswelu students gave me, I had a small question and answer period with the staff and students at Tecumseh. It was nice being able to interact with both sides of the partnership, especially since the Tecumseh fundraising have made such an impact to the students in Mwanza.
Besides all the work I had to finish up in London, I managed to see some friends on campus and even squeezed in a few nights out. Back in Toronto, one of the highlights included having a day out with all the former WHE interns, Dallas, Cynthia and Brian. We went to a small Ethiopian restaurant downtown and relished in old stories, remembering the highs and lows of making yogurt in Mwanza.
With Christmas events and New Years celebrations now over, I had very little time in January to finish up last minute items before moving back to Tanzania. One of them was finishing unpacking my room at home – I think the novelty of looking through my old stuff had worn off and I had neglected finishing the tedious task for several weeks.
I also had to arrange getting my travelers cheques and finances cleared up before going. This banking arrangement caused some serious headaches when I returned to Mwanza – a story I'll include in my January posting.
The last thing I did (on the way to the airport) was voting in the national election at one of the early polling stations in Pickering. The plane out of Toronto departed without any problems and before you could say 'minority government', I was on my way back to Mwanza.
My only hitch on this voyage happened on the Nairobi-Mwanza leg of the journey. After spending a night in Nairobi, I left my hotel early to book my flight (for the same day) to Mwanza. I was pretty confident that I would get a seat whereas this flight is never full. However, it appeared that I picked the one day that it was; the airline worker said the flight was booked solid and there was no point waiting on standby because there already was a long waiting list. Disheveled after some serious jet lag sinking in, I decided to stay and sleep in the airport for the night and take the plane the next day. Nonetheless, when I went to check in that afternoon, the baggage attendant asked why I had slept in the airport and not taken the plane the day before – apparently the flight was never full to begin with and I could have taken that original plane.
The only bright side was being able to sit down in the Nairobi Airport and do some major planning for my remaining three months in Mwanza.
The flight out of Nairobi went fine and on January 12th I arrived safely in Mwanza; my old/new home until April…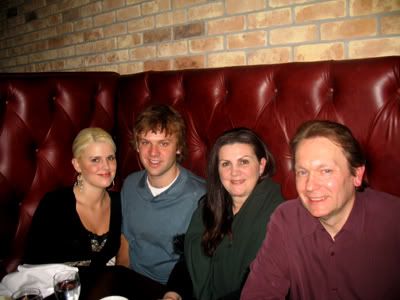 The family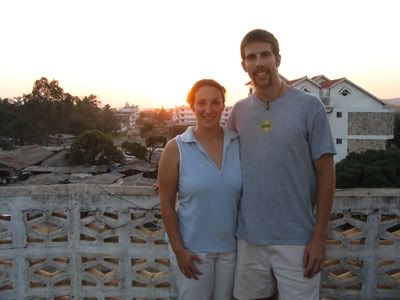 Brian and Cynthia while in Mwanza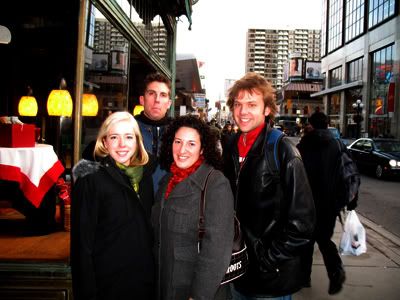 The WHE interns (l-r): Dallas, Brian, Cynthia, Jonathan
Desks being built at Buswelu for the students of their elementary school - funding courtesy of Tecumseh Elementary School, London.